»
Business Travel-friendly
»
West Sussex
»
Chichester
Hotels, Bed and Breakfasts (B&Bs), Guest Houses, Pubs and Inns in CHICHESTER, WEST SUSSEX
Are you looking for friendly accommodation for business travellers or contractors? A friendly welcome awaits you at accommodation listed in this section. From hotels and B & Bs to Guests Houses and other serviced accommodation, all our listed establishments have specified that they welcome business travellers and/or contractors and contract workers!
* Please read our Terms & Conditions and Disclaimer
Showing 1 - 3 of 3 Business Travel-friendly places in or near Chichester, West Sussex, England
Any places with Bargain Breaks or Special Offers are shown first followed by others in hourly changing random order.
The Fox Goes Free
Chichester, West Sussex, England [Google Map]
Visit Britain & AA Inn 4 star
Inn

Quick facts...

Amenities: Restaurant,Non-smoking (throughout),Ironing facilities,Internet access (wireless) in public areas,Bar,
Parking: Free parking, On-site parking,
Accessibility: Accessibility information is shown below
Description:
5 rooms, with prices from £65
Accessibility:
Bar area one restaurant & 2 twin rooms all located on the ground floor are fully accessible for those with mobility issues.
We are:
Biker Friendly
Business Traveller Friendly
Child & Family friendly
Cyclist friendly
Solo Traveller friendly
Walker friendly
Address:
Charlton, Near Goodwood, Chichester, West Sussex
PO18 0HU England
George and Dragon Inn
Chichester, West Sussex, England [Google Map]
Self Assessed 4 star
Bed and Breakfast

Quick facts...

Amenities: Restaurant Non-smoking (throughout)|Internet access (wireless) in public areas|Bar|
Description:
10 rooms, with prices from £55
We are:
Business Traveller Friendly
Solo Traveller friendly
Address:
The George and Dragon, 51 north street, Chichester, West Sussex
PO19 1NQ England
The Chichester Inn
Chichester, West Sussex, England [Google Map]
Bed & Breakfast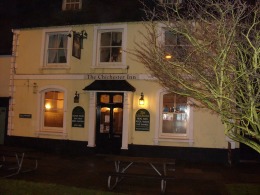 Quick facts...

Parking: Free car parking on site
Description:
2 rooms, with prices from £65
We are:
Adults Only friendly
Biker Friendly
Business Traveller Friendly
Cyclist friendly
Solo Traveller friendly
Walker friendly
Address:
38 West Street, Chichester, West Sussex
PO19 1RP England
Other places with Business Travel-friendly Serviced Accommodation: