»
Biker-friendly
»
Highland
»
Newtonmore
Hotels, Bed and Breakfasts (B&Bs), Guest Houses, Pubs and Inns in NEWTONMORE, HIGHLAND
Find a friendly welcome for both you and your dream machine. Whether you ride a Harley or a Hyabusa, these establishments - from hotels to B & Bs and guest houses etc - have specified that they are motorcyclist friendly! From biker-owned and operated establishments to simply biker-friendly places, some with extras such as ground anchors or secure storage for your precious bike, our range of accommodation is ready to welcome you.
* Please read our Terms & Conditions and Disclaimer
Showing 1 - 1 of 1 Biker-friendly places in or near Newtonmore, Highland, Scotland
Balavil Hotel
Newtonmore, Highland, Scotland [Google Map]
Self Assessed 3 star
Hotel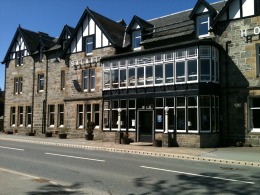 Quick facts...

Amenities: Non-smoking (throughout), Internet access (wireless) in public areas,
Accessibility: Accessibility information is shown below
Description:
51 rooms, with prices from £40
Accessibility:
1 step from entrance to entrance hall.
We are:
Biker Friendly
Business Traveller Friendly
Child & Family friendly
Cyclist friendly
Disability friendly
Gay friendly
Groups Friendly
Solo Traveller friendly
Walker friendly
Address:
Balavil Hotel, Main Street, Newtonmore, Highland
PH20 1DL Scotland
Other places with Biker-friendly Serviced Accommodation: